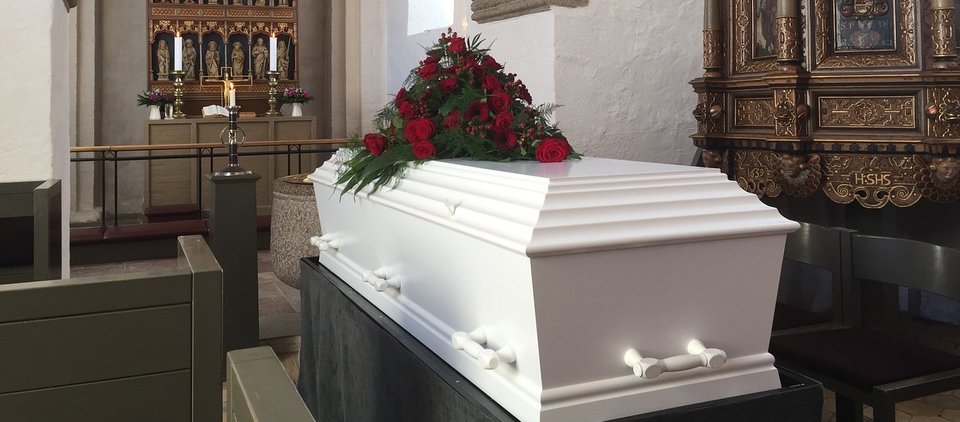 Funeral customs in America have changed dramatically in the last few decades. Unlike our parents' and grandparents' generations, today's families can now choose from a long list of customizations when it comes to planning how they want to say goodbye.
That includes a wide range of casket options for a fitting and personalized way to honor a loved one.
A Guide to

 

Casket and Coffin Options

 

for Every Type of Funeral
From the construction and the exterior finish to the hardware and interior materials, there are several ways to customize a casket. To help guide you and your family when you're considering all these choices, here's a mini-guide to casket and coffin options.
Basic Material Types for Caskets
Whether you're going the traditional in-ground burial route, considering a mausoleum, or want to bury a cremation urn within a casket (a consideration for Catholic funerals where the deceased wishes to be cremated), it's good to know what basic materials are used in the construction of the casket's frame. Although there are virtually dozens of choices, it ultimately comes down to metal or wood.
Both offer the full spectrum of coffin options, ranging from the plain and economical to the most prestigious, statement-making displays you could imagine. The choice of materials is mostly stylistic. The primary functional difference is the ability to tightly seal metal caskets.
Wood Caskets
Here are the most common options for wood caskets.
Cherry

 

- Cherry wood has always been revered as a grain of choice, whether it's being used in caskets, fine furniture, or custom cabinets. Cherry is a hardwood and has a gorgeous, rich color befitting the finest of choices for a loved one's casket.

Mahogany & Walnut

 

- Like cherry wood, these woods are also hardwoods and considered top-of-the-line materials. People choose these woods for the same reason they choose mahogany or walnut furniture: wood is natural, beautiful, warm, and dignified, and no two pieces are alike. The rarer the wood, the higher the price, in general.

Oak and Maple

 

- Also hardwoods

,

 

but with very recognizable grains and colors as they are used extensively in furniture and flooring.

Pine

 

- More than a century ago,

 

coffin options

 

were limited to the pine box with very little embellishment, if any. Pine is a soft wood and still used in today's modern, more elaborately styled caskets. Families who wish to make an economical choice will often select pine and sometimes poplar, another economical choice.
Metal Caskets
Here are the most common options for metal caskets.
Steel

 

- Steel is an economical choice that is both strong and durable. The thickness of the steel used in caskets is measured in 'gauges

,'

 

with 20-gauge at the lower end of the price and thickness spectrum. Families may choose from 16-, 18-, or 20-gauge steel.

Solid Copper or Solid Bronze

 

- Copper and Bronze are considered premium metals

,

 

and caskets made from these metals will most likely have a price that reflects this. They are resistant to rust and, like other metals, come in a variety of finishes.
If you choose metal, ask about optional rubber sealers that function to keep the casket even more weather- resistant.
Green Caskets
In addition to wood and metal, other materials may be used — albeit in nontraditional burials. If you have chosen a natural funeral, you may be considering a 'green casket' made of any number of sustainable materials such as:
Willow

 

- Willow that's grown in a sustainable fashion is a popular choice for people who wish to be buried in an eco-friendly casket. Willow caskets are woven by skilled craftspeople.

Bamboo

 

- Bamboo is another popular choice because it's very sustainable due to its fast-growing nature. Seagrass is popular, too, for the same reasons. Both are woven to create beautiful, natural caskets.

Pine

 

- Some people opt for a simple wooden box made of pine. Unlike the more elaborate pine caskets mentioned above, these resemble

 

the

 

coffin

 

option

s

 

of yesteryear in their structure and their simplicity.
Any of these materials might be good options for burial in a green cemetery because they break down more easily than the more elaborate and sophisticated caskets typically used for burial.
Design
No matter what material you choose, you'll also need to specify what type of design you prefer for the casket. This comes down to how the viewing and the funeral will be organized. If you plan on having an open casket, you may choose from the following casket options:
Half-Couch

 

- This is a casket whose lid is split in two. That allows for just the top half to be opened during the viewing or the funeral service. For open-casket funerals, this is a common choice. Many families also opt for commemorative panels to be placed inside the open lid for the viewing and/or funeral service.
Full-Couch

 

- This is a full, one-piece lid. It can be used for open-casket funerals or services where the casket is fully closed.
Interiors
It's common for families to want to create a tailored, personalized funeral service that helps them honor and mourn their loved one in a way that's meaningful. One important aspect of personalization is the type of interior they choose. Here are your interior casket options:
Velvet, Satin, and Crepe

 

- These interiors are typically used in traditional metal and wood caskets. They symbolize comfort, luxury, respect, and elegance. Velvet is especially popular because its soft texture creates a strong visual balance against the wood or metal structure of the casket. Satin works well for this reason, too. 

 

Cotton

 

- For those who've chosen a green funeral, interior linings will typically be made from organic, unbleached cotton.
Learn More
The options present here are a good start, but you'll want to learn more about choosing a customized funeral casket. Beyond what you've read about here, there are additional options available to families who truly want to make a highly personalized statement at their loved one's funeral or burial service. Remember: funeral customs have loosened up dramatically in the past few decades, so if you have a wish, a need, or an idea for a unique funeral service and for your coffin and casket options, don't hesitate to find out more.