Cunningham Parker & Johnson Funeral Home
1325 W Washington Street Charleston, WV 25302
Cunningham Parker & Johnson Obituaries in Charleston, WV
We are very sorry if you are currently grieving the loss of a loved one. Click below to view Cunningham Parker & Johnson's full listing of obituaries in Charleston, WV.

A Trusted Funeral Home in the Charleston, WV Area Since 1929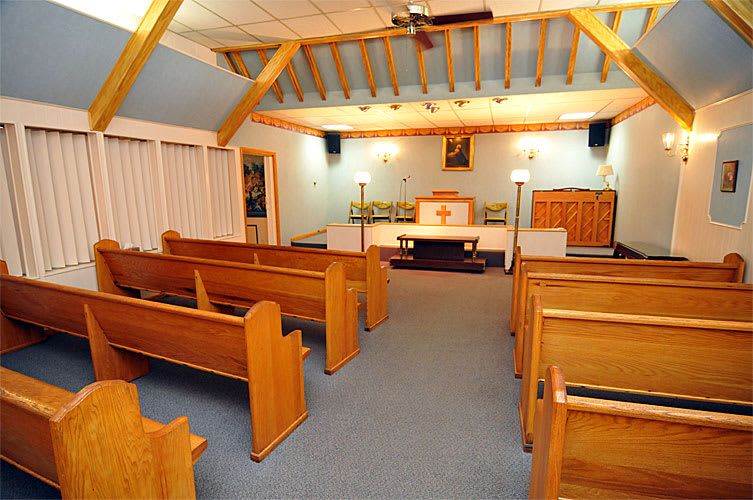 Cunningham Parker & Johnson Funeral Home has been serving the Charleston and Kanawha Valley areas of West Virginia for over 90 years, since being founded in 1929 by Emmons A. Johnson.
Even as the funeral home changed hands over the years, with the Cunningham family owning the establishment for 45 years until being purchased by James E. Johnson and R. Brent Parker in 1979, the mission remained the same: to be known for compassionate, dedicated service to families in the Charleston, WV area.
That goal continues today with the current staff at Cunningham Parker & Johnson Funeral Home, who are honored to serve the families in our communities.
Cunningham Parker & Johnson Funeral Home was designed to truly standout and provide a comforting setting for our families. Our facility offers entry from both our 31-space parking lot (along with two handicapped spaces) as well as street parking along W Washington Street.
At CPJ, we have a pair of well-appointed State Rooms, a large chapel for services and a private arrangement suite. In addition, we have a full-casket selection room and an extensive selection of urns.
How to Start Funeral Planning

We understand how overwhelming it can be to plan a memorial service. As funeral planning experts, you can rely on us to lead you through the process and answer any questions you may have. If you're wondering where to start, one of the first steps in funeral planning is deciding between a burial or cremation. Then where to be buried or what do do with the cremated remains. After that comes decisions about types of materials, inscriptions for memorial markers, and more. Instead of feeling overwhelmed, let our staff guide you through the many choices that must be made.
We can assist in planning or pre-planning:
Traditional funerals and burials

Traditional cremation services
Memorial, church, and graveside services
Funeral products including caskets, urns, and memorial markers or headstones
Keepsake and remembrance jewelry
Personalized mementos
Online guestbooks
Photo tribute videos
Cunningham Parker & Johnson Funeral Home would be honored to help your family plan a memorial service in the Charleston, WV area. Learn more about our decades of experience and how we can help by visiting our full site below.
The staff at CPJ are absolutely wonderful. They have provided services for my family for 2 separate funerals for family members. They go above and beyond during your time of grief and are very compassionate. Thank you to all who worked during my grandfather and brother's funerals.
Lesa - January '21
Very nice , clean , friendly employees. They worked with my family when time in need.
Temple - February '19