Choosing a breathtaking cemetery can be a source of solace for those making end of life decisions. Selecting a picturesque final resting place can be comforting, because you know that the scenic environment will provide loved ones with a peaceful opportunity to visit and reflect.
This month, we wanted to take the time to showcase a few beautiful cemeteries in Florida.
Daytona Memorial Park: A Breathtaking Cemetery in Daytona Beach, FL
Daytona Memorial Park is a breathtaking cemetery and funeral home that's provided funeral, burial, and cremation services for generations of families in and around the Daytona community.
The park is incredibly picturesque, with lush gardens featuring beautiful flowers and trees. Impeccably landscaped paths cross the rolling hills of the park, meandering through the statues and monuments that include an elegant veterans memorial wall, a wall enforcement wall, and sitting benches. There's even a beautiful lake with swans.
The park can accommodate a variety of burial options. Many families have private mausoleums in the park. For those who choose cremation, the park features a scattering pond and columbarium niches. Across the grounds, grave markers and monuments memorialize the legacies of loved ones. There is even an elegant, outdoor mausoleum.
For more information about Daytona Memorial Park cemetery in Florida, visit this page.
Forest Hills Memorial Park: A Uniquely Beautiful Cemetery in Palm City, FL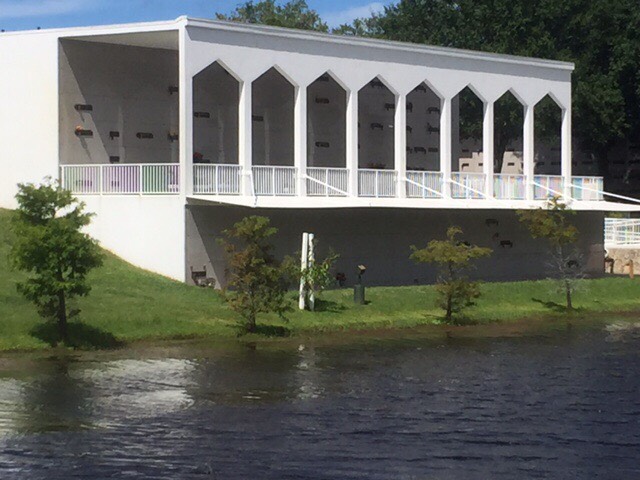 Forest Hills Memorial Park first opened its doors in 1976, when it was chartered by the state of Florida as a perpetual care cemetery. Situated on over 40 acres in the heart of Palm City, Florida, the cemetery is designed to service the city by providing a beautiful resting place for residents and their loved ones.
The park offers a variety of burial options - from in-ground internment, to mausoleum entombment, to cremation. There is even a Butterfly Cremation Garden, providing a picturesque option for placing the remains of loved ones.
To learn more about the options provided by this unique, picturesque cemetery in Palm City, Florida, click here.
Good Shepherd Memorial Gardens: A Peaceful, Elegant Cemetery in Ocala, FL
Finally, Good Shepherd Memorial Gardens is another beautiful, perpetual care Florida cemetery. Good Shepherd Memorial Gardens boasts a beautiful landscape of over 40 acres, with an atmosphere is defined by its lush mid-Florida feel.
With rich greenery, well-trimmed trees, and exquisitely landscaped terrain, this cemetery provides a peaceful, picturesque resting place, and a place of solitude from the busyness of everyday life for visiting loved ones.
The cemetery offers a variety of burial options, including in-ground burial, mausoleum entombment, and lawn crypts. There are monument and non-monument sections on the grounds.
For those who choose cremation, Good Shepherd features a brand new cremation garden that is stunningly beautiful.
Good Shepherd also features four mausoleums, two chapels and a meditation area to make the atmosphere of peaceful reflection complete. Private family plots and private family mausoleums are also available.
To learn more about this peaceful cemetery in Florida, click here.
See Other Beautiful Florida Cemeteries
Looking for a beautiful Florida cemetery near you? Find the right resting place, and give your loved ones the gift of a beautiful place to remember you.
There is nothing more beautiful than the gift of a legacy. Learn how pre-planning can make burial affordable and worry-free for the ones you love with our free informational kit.