Cremation is a process of reducing the human body to bone fragments by exposing it to intense heat. It is a popular choice for final disposition, especially among those who want to avoid some of the expense and environmental impact of a traditional burial.
Many people choose to be cremated as part of a traditional funeral service, with a viewing and memorial prior to cremation. But can you have a funeral service in a church before the cremation process?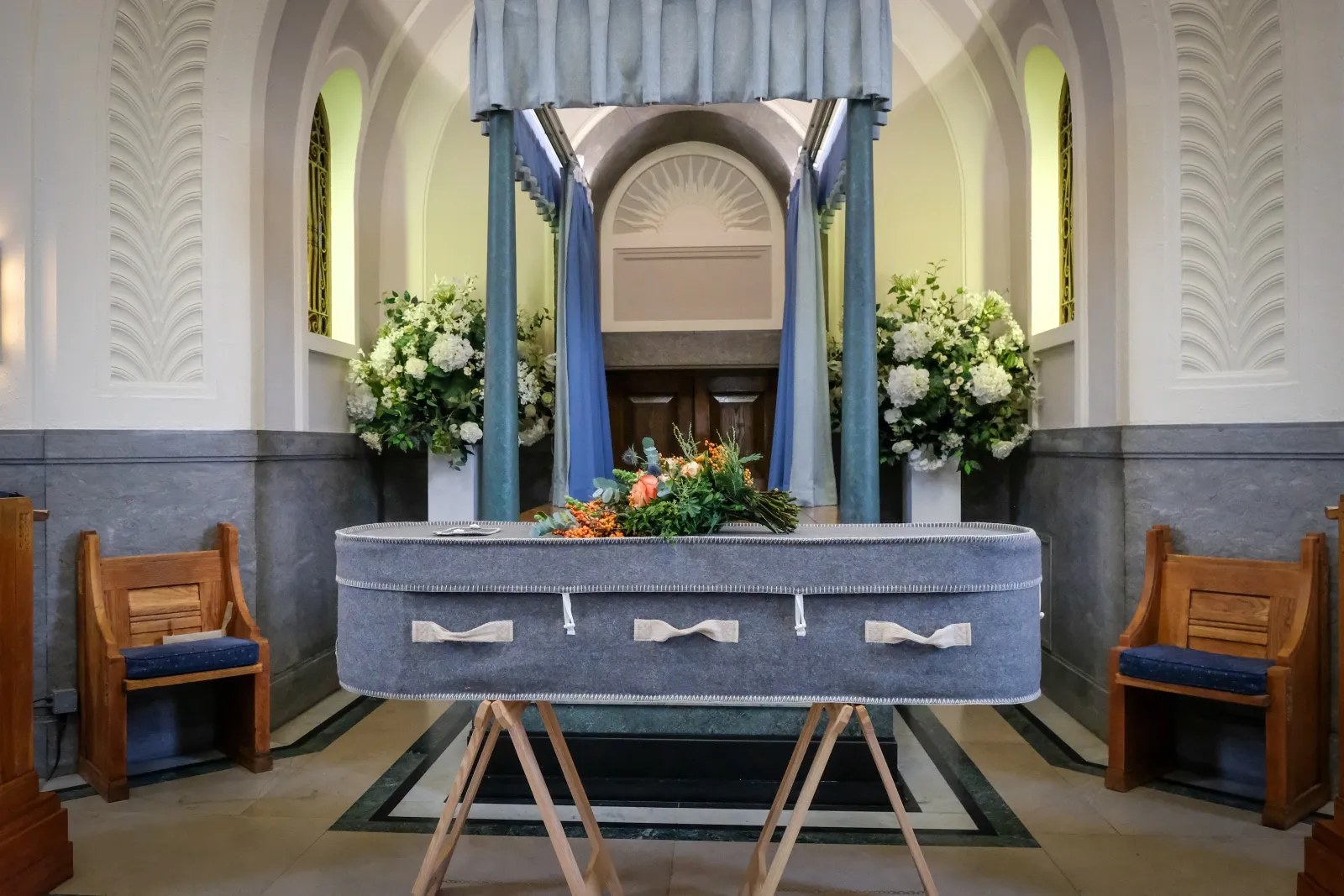 You CAN Have a Funeral Service in a Church Before Cremation
The short answer is yes, you can indeed have a funeral ceremony before cremation, even in a church, in many cases. In fact, you can do so as a way to celebrate the life of the deceased and to provide comfort and support to the family and friends who are grieving. However, there are a few things to keep in mind if you are planning a funeral before or after the cremation process:
Find the right church: 
First, you will need to find a church that is willing to perform the service. Some churches have restrictions on cremation, so it is important to check with the church before making any plans. For example, there are no strict rules against cremation in the Christian faith overall, but many sects of Christianity - such as Roman Catholicism - have steps that must be followed in order for the funeral service to be considered part of the Catholic funerary rite. As one example, the preference of the Catholic Church is that the cremated remains be buried within a Catholic cemetery.
Choose the type of service:
 Second, you will need to decide what type of service you want to have. Some churches offer traditional funeral services, while others offer more informal memorials. You can also choose to have a service at a funeral home or another location, but again this can and will differ depending on your particular religion and its sacraments. You may need to consult with your priest for more information on what types of services would be appropriate and where they can be held. This includes choosing the readings, music and other elements of the service. You may want to include personal reflections on the life of the deceased, or you may want to focus on religious themes.
Notify friends and family:
 The last step is always to notify everyone who doesn't already know about the funeral service for the deceased. This can be an arduous process when handling it one-on-one, so it's often a better idea to send out a general announcement, such as on a funeral home's website or over social media, to fill people in on the date, time and location of the funerary services. Taking the time to speak to people individually works as well, but can be a major burden and is often avoided.

Other Things to Consider
Should you choose to have a church service before cremation, it can be a meaningful way to celebrate the life of your loved one. It can also be helpful in providing comfort and support to the family and friends who are grieving. If you are considering cremation for your own final disposition, be sure to talk to your family and friends about your wishes and to find a church that is willing to perform the service.
This type of advance funeral planning — perhaps years or even decades in advance — can help your family to cope with your loss easier when the time comes, since the stress of trying to determine what they think you would've wanted has been removed from them. Other things to consider if you are planning a church service before cremation, either for yourself or on behalf of a loved one who has passed, include the following:
The cost of a church service before cremation. Costs will vary depending on the church and the type of service you choose, though in general the costs of cremation are less than those of a traditional casket burial. Expense shouldn't necessarily be the only concern when it comes to funeral arrangements, but it is true that they do play a role.
Your ability to communicate with the church. As you will need to provide the church with the name of the deceased, the date and time of the service, and the names of the family and friends who will be attending, it's important to have a good relationship with the church so these aspects of funeral planning go smoothly. It's helpful to choose a church at which you're either a regular congregant or one where the deceased attended regularly.
Specific requirements put in place by the church. While it's not necessarily common, your church may have specific requirements for services performed there. These may include a specific dress code, music choices, and whether the eulogy for the deceased must reference your loved one's spirituality or if it can be more secular.
Day-of responsibilities. The day of the service, be sure to arrive at the church early so that you have the time necessary to set up and to greet your guests as they arrive. Meanwhile, after the services are completed, you may wish to host a luncheon or a reception for your guests. With cremation taking place after the ceremony, there is no requirement for a graveside interment directly after the church services, which means there's no need to prepare one.
Learn More About Cremation Before or After Funeral Services
Cremation is a deeply personal decision, and there is no right or wrong way to do it. If a loved one has entrusted you with their final disposition, it's important to honor their wishes if they have elected both for cremation and for a funeral service that takes place prior to that cremation. If you are considering cremation as a choice for yourself, be sure to talk to your family and friends about your wishes and find a church that is willing to perform the service.
Remember: the more advance planning you do, the easier it will be for your family. MemorialPlanning.com operates many cemeteries with a relationship to a church. If you find a location near you, our knowledgeable team will be happy to sort through any details with you and determine the best option for having a church funeral ceremony before (or after) cremation.