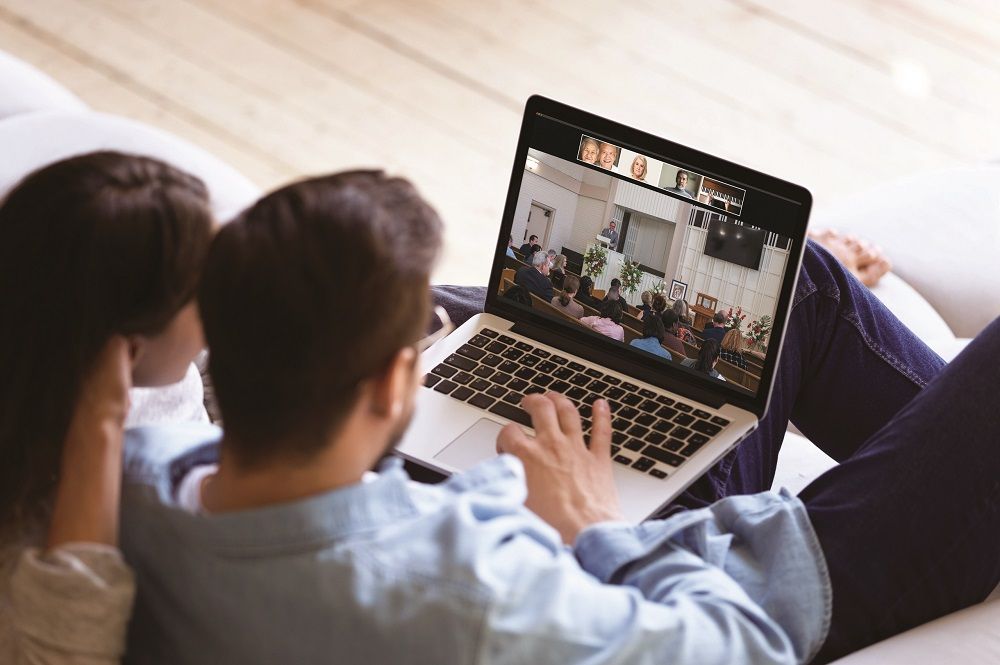 Memorial services for the deceased are a traditional part of mourning. Many memorials take place at a funeral home, where friends and family members gather in person to say their final farewells to their loved ones in a respectful manner. However, sometimes it's simply impossible for mourners to attend a memorial service in person. In such cases, many families are opting to provide virtual streaming of memorial services. Let's look at some virtual funeral pros and cons.

What is a Virtual Memorial Service?
A virtual memorial service is the broadcasting of a funeral service online so that people who are unable to attend in person can still participate. This can be a great option for people who live far away, who are unable to travel due to health concerns, or who simply prefer to watch the service from the comfort of their own homes.

What are the Benefits of a Virtual Funeral?
There are many benefits of a virtual funeral service, including:

1. Accessibility
Virtual streaming makes it possible for anyone to attend a funeral, regardless of their location. This can be especially important for people who live far away or who are unable to travel due to health concerns.

2. Flexibility
Virtual streaming with recording functionality allows people to attend the funeral at a time that is convenient for them. They can watch the service live or on-demand, and they can even rewind or fast-forward if they need to.

3. Cost-effectiveness
Virtual streaming can be a more affordable option than traveling to attend a funeral in person. In this way, mourners who still wish to say goodbye to their loved ones no longer have to worry about affordability.

4. Peace of mind
Virtual streaming can give people peace of mind knowing that they were able to participate in the funeral, even if they were not able to attend in person.

What are the Cons of a Virtual Memorial Service?
While virtual streaming of a memorial services offers many benefits, it's essential to understand that there are also some limitations to virtual streaming funeral services, including:

1. Technical Difficulties
Virtual streaming requires the use of technology, which can be unreliable. If there are technical difficulties, the service may be interrupted or not be able to be streamed at all. A strong wi-fi connection is essential, which may dictate where the service can be held.

2. Interactivity
Virtual streaming can be less interactive than attending a funeral in person. People who are watching the service online cannot participate in the same way as those who are there in person, and those in person may not realize who has attended virtually.

3. Etiquette
There may be some etiquette concerns associated with virtual streaming funeral services. For example, it is important to be respectful of the family and to avoid making any disruptive noises during the service. Unmuted mishaps can disrupt a somber affair.

When to Have a Virtual Memorial Service
Virtual memorials aren't always a necessity. If mourners can attend without issue, it may not be worth the time and effort to set up a virtual memorial stream. However, virtual memorials can be useful in a variety of circumstances, including:

1. Long Distance Family Members
You should have a virtual memorial service when mourners are too far to attend in person. This is perhaps the most common circumstance, as far-flung friends and family members may not have the ability to disrupt plans to travel from several states away to attend the funeral, no matter how important it may be to them.

2. Health Concerns
Another clear example of when virtual memorials may be useful includes times when there are major health concerns or when travel might be restricted or difficult. An example of this can clearly be seen during the COVID-19 pandemic when large gatherings of individuals were a health danger and when traveling by plane or similar means presented health hazards to the public.

3. Keeping In-Person Funeral Private
Finally, there are other circumstances that would make a virtual memorial service an excellent choice. If the family prefers to keep the in-person funeral private by limiting it to just immediate family, a virtual service offers opportunities for people to pay their respects while still honoring the wishes of the family. In this way, the family can make the funeral accessible to a wider audience while still preserving their privacy.

Additional Considerations on Funeral Streaming
Virtual streaming is a growing trend in the funeral industry. However, because it is still relatively new, not every funeral home may offer these services. Even if a funeral home does have the capability to provide a virtual stream of memorials, you should consider the virtual funeral pros and cons of that organization specifically. Issues include whether the funeral home's streaming equipment is adequate and whether their internet connection can handle the additional workload, especially if there are many people expected to watch the stream.

Likewise, the cost of streaming a memorial service may be passed on to the family of the loved one. The expense of purchasing and maintaining the equipment necessary to conduct an online stream often needs to be considered. The need for staff to be trained in how to operate this equipment and then manage the stream is likely to be an additional expense. Please be aware that funeral homes offering live streaming of memorial services may need to charge more for this additional service.
Also keep in mind that cemeteries may also offer streaming, for gravesite services, or allow families to set up their own streaming system.

Learn More About Live Streaming Memorial Services
Ultimately, the decision of whether to use virtual streaming for a funeral is a personal one. There is no right or wrong answer, and the best option for one family may not be the best option for another. However, there are many benefits of a virtual funeral, as they can be a great way to make sure that everyone who wants to participate in a funeral can do so, regardless of their location.

If you're planning a funeral in advance or have an immediate need for a loved one, reach out to our memorial planning experts at 844-808-3310 or find one of our locations near you. Our funeral directors can help you explore your virtual funeral options as well as all other aspects of organizing a funeral.