In-Ground Burial
The Traditional Cemetery Burial Option
Below ground burial is the right choice for you if:
You prefer traditional cemetery burials
You want to be memorialized alongside other loved ones
You want outdoor visitations
You want loved ones to place flowers and other decorations at the site
You want a marker or monument to memorialize you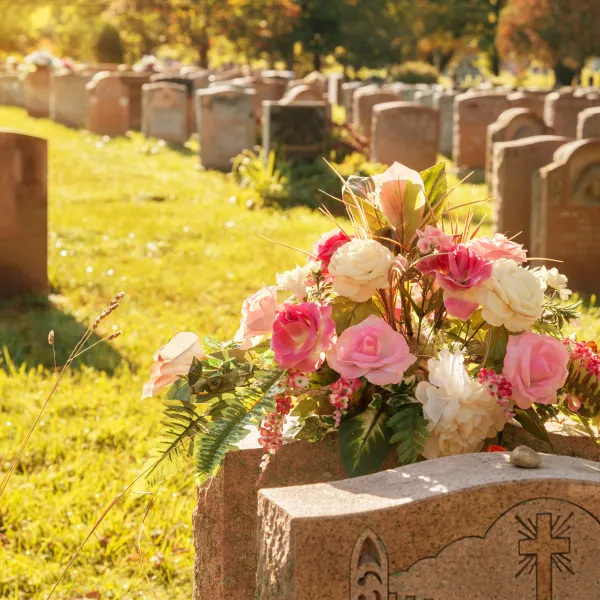 A traditional in-ground burial consists of five components:
As the most traditional burial choice, in-ground burial typically involves a casket and is marked by a memorial tribute. Below ground burials are usually preceded by a funeral service as well.

Casket: Displays and contains the deceased, either for burial or cremation.
Gravesite: The space or plot.
Memorial: A tribute installed at the gravesite to honor and celebrate a life worth remembering. Flat bronze markers are installed at memorial parks and upright granite monuments are installed at cemeteries.
Vault: A concrete enclosure that serves as the casket's protective lining and provides safe, sure footing for your loved ones.
Opening-and-Closing: Preparation of gravesite for burial service that consists of ground opening, closing (back-filling), and landscaping (to restore gravesite's appearance).
Need a Free Tool To Help Plan a Funeral?
Free Burial Planning Tool
In-ground Burial Frequently Asked Questions:
Read our questions below to learn more about in-ground burials.
Can a body be buried without being embalmed?
Yes. In fact, embalming is rarely required by law. Some states require embalming if the body is crossing state lines, but for a burial it is not required. read more
Are natural burials legal in the United States?
As natural burials become more and more popular, questions continue to arise regarding the legality of natural burials.Natural burials are legal in all 50... read more
Can a body be buried without a casket?
Most states require that a body be buried in some type of container such as a coffin or a vault. Most states will also require some type of container for... read more
Can a person bury a body on their own land?
Depending on your state, burying a body on private land may be an option. However, it will likely be necessary that your state will require some... read more