Natural Burials: Questions & Burial Options
What is a Natural Burial?
A natural burial does not use embalming fluid, a casket, or a burial vault. Instead, the remains are placed directly into the earth, allowing the body to decompose naturally. The process has minimum impact on the environment. In some instances, the bodies of the deceased are buried in a biodegradable casket or in a simple burial shroud, so long as they do not inhibit the decomposition of the body in anyway. Natural burials also do not use any machinery or heavy equipment for digging the grave site. Instead, the grave sites are dug by hand.

Natural Burial vs. Green Burial
You may have recently heard about natural burials (which are sometimes incorrectly referred to as green burials) as an alternative to a traditional burial. Many people are opting for this non-traditional form of interment for a number of different reasons - it is more eco-friendly, as one example) - and if you're planning your burial, a natural funeral and interment are worthy of consideration.

The terms natural burial and green burial are often used interchangeably. Although they are similar, they are actually two different types of burial option.

While a natural burial can occur within a traditional cemetery, but a green burial requires a special cemetery.

There are also a host of eco-friendly burial options as well.
"Natural burial" strictly refers to the actually burial process. This means the opening and closing of the grave, the preparation of the remains, and the laying of those remains in the burial plot.
"Green burial" refers to this process but also to the cemetery in which the burial takes place. A "green cemetery" uses no artificial pesticides and none of the bodies buried in a green cemetery can have been embalmed or buried in a traditional casket.
Natural Burial Options
In terms of different burial products, such as headstones, burial flowers, and memorial benches, there are slight differences compared to more traditional burial options. While headstones are used for natural burials, they are actually quite different than a traditional burial headstone. Natural burial headstones are usually a simple stone with a simple bronze plaque.
Certain elements like embalming fluid and vaults are prohibited, but there are also certain natural burial options that you won't necessarily get with a traditional burial. For instance, natural burials allow you to grow flowers and other plants directly on the gravesite. Depending on your final resting place, there may also be some different rules and regulations for a natural burial. In these cases, it's best to consult the cemetery directly to learn about the rules in your state.
And just like with a traditional burial, you can easily plan your natural burial by directly contacting the cemetery of your choice and making arrangements.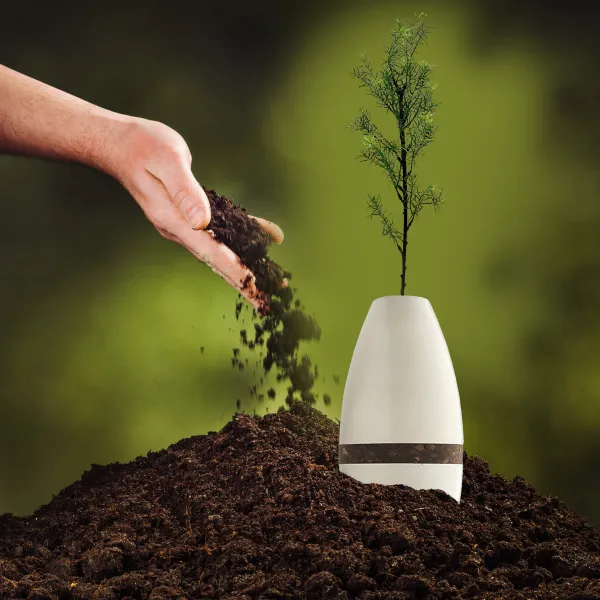 Natural Burial Frequently Asked Questions
What type of people choose a natural burial?
There isn't any one type of person who opts for a natural burial. Some people choose a natural burial because it is more eco-friendly, but many others... read more
How is it that natural burials don't use embalming fluid? Isn't embalming fluid required by law?
This is actually a common misconception. In reality, embalming fluid is not a legal requirement for a burial. However, the question of whether embalming... read more
Will animals disturb the gravesite?
Another misconception is that without embalming fluid, animals are more likely to disturb the gravesite. But in reality, the bodies are buried at a depth... read more
Is cremation an option with a natural burial?
Yes. Although the process may be altered slightly to comply with the cemetery rules, cremation is an option for a natural burial. read more
Is a natural burial legal in my state?
The good news is that natural burials are legal in all 50 states. However, some rules and regulations may differ slightly. It's best to consult with a... read more
Why isn't a traditional vault/casket/headstone allowed for a natural burial?
The process of creating a burial vault or a headstone, as well as the transportation of these items, are not necessarily eco-friendly, and therefore do not... read more
Natural Burial Cemeteries
MemorialPlanning.com has two cemeteries that offer natural burials. Click the links or call the phone numbers below to learn more:

1

Windridge Memorial Park

Windridge Memorial Park
2

Willow Lawn Memorial Park

Willow Lawn Memorial Park
Willow Lawn Memorial Park