How Much Does Cremation Cost?

When it comes to making final arrangements, either for yourself or a loved one, it's important to keep in mind the cost of laying someone to rest. If choosing a traditional burial, you will need a burial plot, a casket, a vault for the casket, and an opening-and-closing service, not to mention a memorial such as a flat marker or headstone. That is all before a memorial service is taken into account.
It is for this reason that so many choose to plan and pay for their burial in advance. Not only does it allow them to select the type of burial and products they would want to help tell their life story, it also allows them to pay today's cost, without years or even decades of inflation.
Another way people are saving money these days is by selecting to be cremated instead of buried. But how much does it cost to cremate a person? This article will break it down, though please keep in mind the numbers discussed here are averages, and will in all likelihood be more or less based on your location and the types of products and services selected.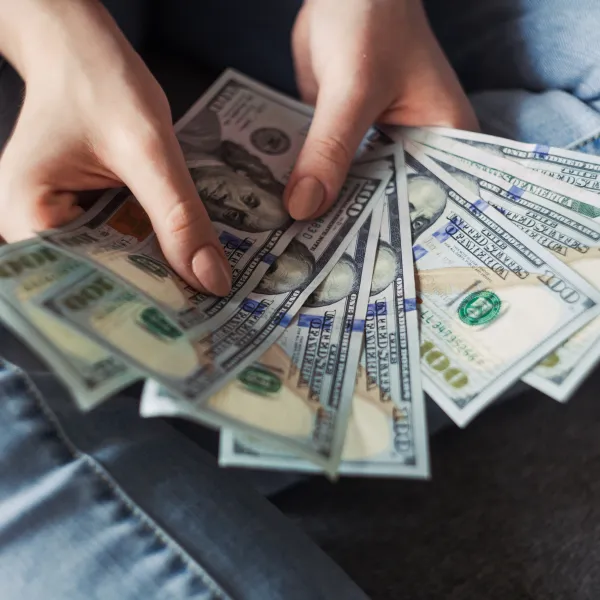 What is the Average Cost of Cremation Around the Country?
In general, the national average for the act of cremation itself is $650. This does not factor in a container for the cremated remains, or any type of service. Those could very well add up to $6,000 or more, depending on the type of service and memorialization you prefer. Read on for those details regarding average cremation costs.
Cremation Urn or Casket
Even if you plan to scatter the cremated remains, you will still need an acceptable container to store the ashes until that point. Many families choose an attractive cremation urn. You can get a simple one for the purposes of transportation for as little as $50, or truly customized urns with specialized materials can cost more than $2,000. The national average is $273. If you choose to place the urn within a cremation niche in a cemetery, that could run $700-3,000 depending on the cemetery and the niche. Additionally, depending on some family's religious beliefs or preferences, they may elect to bury the cremation urn in a cemetery. That will require a burial plot (typically $1,000-4,000 depending on location), burial vault ($1,000), casket ($2,000-5,000), opening-and-closing service ($1,500), and a memorial ($1,000 for flat markers and $2,000-5,000 for upright monuments). These are again averages and could change based on the level of customization.
Memorial Services
In addition to a cremation or burial, you will likely want to have some type of memorial services. The prices here range greatly, depending on the form of service. Having a viewing prior to cremation will require renting a casket, which can cost up to $500, and may also necessitate embalming and fees for sheltering the remains, which can run as much as $1,000. Even without a viewing, the service itself if conducted at a funeral home is likely to cost at least $2,000-5,000, and will include paperwork-type services such as obtaining copies of the death certificate and any necessary permits, as well as coordinating and overseeing the actual ceremony. You will also likely want to include flowers or wreaths, which can cost $350 or more.
How Much Does Cremation Cost Compared to Traditional Burial?

With a sticker price of $7,000 or more, cremation may not sound like the "more affordable" option. However, it's important to consider that the costs outlined above for the process of burying a cremation urn would apply for any traditional burial. Meaning, the cost of cremation and either scattering or placing in a cremation niche must be compared to the cost of a burial plot, vault, casket, opening-and-closing, and marker or monument. That means a standard cremation can cost an average of $7,000 less than a traditional burial.
Cremation Pricing & More Information Now.

The Emotional Cost of a Cremation
It's obvious that the financial cost of a cremation is an important factor. But it's also worthwhile to consider the emotional cost of a cremation, especially in comparison to more traditional funerary services such as a burial. In fact, opting for the "less expensive" option, such as having the deceased cremated without a viewing, could result in a higher emotional toll than expected. Many bereaved feel the need to say their final farewells to the deceased in person, which is why burials are such popular choices. In some cases, this means that having the deceased cremated will prevent mourners from finding such closure. Feelings of regret and even resentment may result, especially if the deceased is cremated before the viewing. Similarly, some maintain a connection to the deceased by visiting the gravesite and reflecting, leaving flowers, etc. beside the memorial. Scattering ashes may prevent this from being possible. This is of course entirely dependent on the wishes of the deceased and the family, and the opposite may be true in many situations — loved ones may prefer to visit a spot where ashes have been scattered, for example. This is why it is so important to discuss preferences ahead of time.
Discover for Yourself the Costs of a Cremation
Because of the dozens of different factors that go into any funerary services, it's important to understand that the "average" costs of a cremation are highly variable. This makes it imperative to consult an expert to discover the exact costs of your preferences. The experts of MemorialPlanning.com are always available to help you through this process.